Launched in 2021 by IAE, the AG-fit product range is rising in popularity as farmers seek to find a flexible solution to their loose housing requirements on short lead time, making AG-fit: the most flexible solution to your loose housing requirements.
What is AG-fit?
AG-fit is a range of telescopic gates and panels designed by IAE with the modern farming enterprise in mind. Constructed from a Primary and an Insert, each part is manufactured from heavy-duty steel that has the strength to withstand commercial and pedigree traditional and continental breeds.
To ensure durability, all parts are galvanised to the specification of BS EN ISO 1461 within IAE's in-house galvanising plant, allowing them to manage quality and ensure every Primary and Insert will withstand the test of time.
Upon assembly, the length of the gate or panel can be tailored to the gap you have by fitting the Insert into the Primary, offering it up to the gap and locking the Insert into place. The locking mechanism utilises a patented collar and plate solution that is guaranteed to hold the insert firmly in place. The gates and panels are not designed to be variable in length once in use.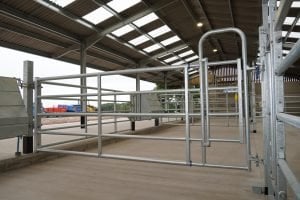 The AG-5 Gate and Panel
Yard gates and panels of bespoke lengths are easily created using AG-fit. By combining the AG-5 Primary, which is designed from 60.3mm diameter tubular steel on the top and bottom rail and 48.3mm steel on the intermediate rails, with the Gate insert, gates ranging from 550mm in length to 6000mm are easily created. This is mirrored with the AG-5 Panel Insert, which when combined with an AG-5 Primary can create panels between 400mm and 6000mm in length.
Looking beyond the Gate and Panel…
To ensure this product range sits at the very forefront of modern-day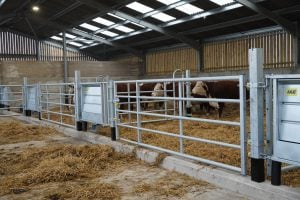 loose housing equipment, included in the range are a series of additional Inserts, all designed to increase efficiency and safety across the building. Additional Inserts include:
· A Squeeze Gap Insert. Designed to allow the handler to pass between pens containing larger animals and provide a quick and safe exit if required.
· A Passage Gate Insert. Similar to the Squeeze Gap Insert, but also includes a gate, making it well suited to sitting between pens containing smaller or younger stock.
· A Calf Creep Insert. Adjustable in width from 120mm to 595mm, the Calf Creep Insert will allow calves to transition between pens and prevent larger animals from doing so.
Each of these inserts has been designed and included to ensure the needs of modern day beef farmers are met and are guaranteed to improve safety on the farm.
The VisorDrink
Included within AG-fit is our latest indoor water trough design; The VisorDrink. The importance of fresh water in any loose housing environment cannot be understated which is why IAE designed the VisorDrink.
Featuring a super tough all-in-one trough and shroud design, the VisorDrink also features a built in visor to protect the drinking water from muck and straw. Cattle access the clean water by nudging back the visor. Also included is a high flow float valve, capable of handling a hinge pressure supply, ensuring a continuous ready supply of drinking water for your herd.
Available in 3 sizes, there's a VisorDrink to suit any building, pen or application and the large diameter quick empty valve enables rapid drainage and cleaning.
Want to know more?
The AG-fit product range is available from a number of stockists nationwide. To find your local stockiest, visit our website
Alternatively, if you require assistance with planning the internal layout of your new or existing loose housing building, contact our office to find your local Area Sales Manager.