Overview
Designed for dairy cattle, the YokeMaster® self locking yoke panel allows for cows to feed freely as they would at a standard feed barrier but it also allows for the animals to be locked into the panel through the use of a simple operating handle.
Being able to lock the animals into the self locking yoke panel permits standard veterinary and welfare procedures, such as artificial insemination (AI) and pregnancy diagnosis (PD), to be conducted within the familiar habitat of the cow. Consequently, this leads to reduced stress and increased yields amongst the herd.
The YokeMaster incorporates many great features which form an integral part of the very best dairy cattle housing systems, which include:
A unique patented locking design with full safety yoke functionality.
A high quality building specification with fully galvanised durability.
The ability to operate up to 50 cattle headspaces from one operating handle.
The option to choose from a variety of panel lengths, ranging from 1 headspace up to 10 headspaces, to suit your cattle housing requirements.
Our latest design of the self locking feed barrier includes several key improvements, including:
1000mm high panel – raised from 915mm to help reduce neck rub.
Panels are now able to include up to 10 headspaces.
Operate up to 50 headspaces with 1 operating handle.
Quiet, self-lubricating polymer locking latches.
Steel core, polymer coated drop latch for strength and quiet operation.
Yoke arm rubber bumpers minimise panel noise.
Offset yoke arm pivot for greater animal comfort.
These improved design features are outlined on the below diagram:

Inclined Installation
We recommend the panels to be inclined when installed. In all installations it is important to maintain the 610mm dimension from the floor.
Installing the YokeMaster self locking feed barriers with an inclined aspect has the following benefits:
Reduced load on the panels caused by the cattle because they are able to reach further into the fodder area.
Reduction in wear on animal's shoulders/withers/neck.
Operating rod passes directly in front of stanchion, eliminating the need to drill stanchion to link panels.
To install the panels inclined with the top towards the feed passage, the YokeMaster panels can be supplied with a pair of angle brackets for the top rail and flat brackets to fit into the bottom rail. Supplying the panels with 4 flat brackets or 4 angle brackets is also available to suit individual needs.
Example set-ups are pictured detailing installation arrangements below.
A and B depict installation on posts vertical and inclined.
C and D show installation when fitted to stanchions using angle brackets at the top and flat brackets at the bottom. Here the operating rod of linked panels runs across the face of the vertical. Whilst inclining the panels is recommended, this lean should not exceed 120mm (tube centres) or 7.5°.
E illustrates a stepped feed passage relative to the scrape passage, a step of 150mm is recommended.
D shows an inclined panel fitted within the web of a large stanchion. The RSJ will have to be drilled to accept the operating rod connector (linked panels).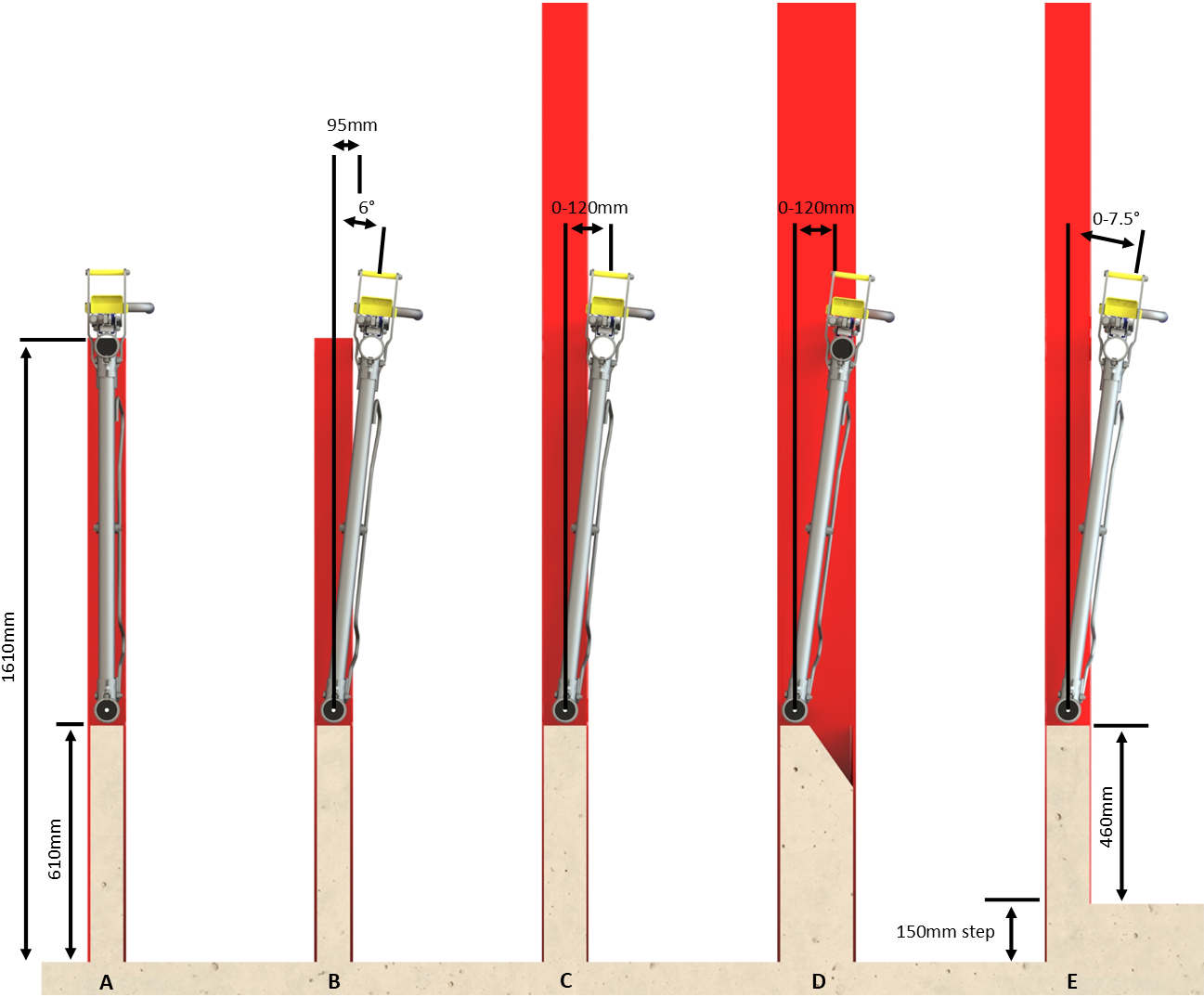 NB: The installation heights are based on typical mature dairy cows. These heights may require adjustment for different sized animals. Heights are based on the scrape passage floor level.
YokeMaster can be raked up to 2° (equivalent to 1:30) and longer panels (6 spaces and over) should be installed with a central support leg to prevent distortion.
For more information about our Dairy Housing range, visit our online brochure by clicking here.
Young Stock Yokes are also available designed to be suitable for use with young stock. Head spaces are narrower to prevent anymore than the head and neck fitting through. They include all the features of the standard Yokemaster.
Product codes
Yokemaster panels with 2 angle and 2 flat brackets (for inclined installation)
F030 2251 40 - 630 mm long 1 Yokemaster self locking yoke panel (770ctrs)
F030 2251 41 - 1262 mm long 2 Yokemaster self locking yoke panel (1425 ctrs)
F030 2251 42 - 1866 mm long 3 Yokemaster self locking yoke panel (2005 ctrs)
F030 2251 43 - 2504 mm long 4 Yokemaster self locking yoke panel (2645 ctrs)
F030 2251 44 - 3142 mm long 5 Yokemaster self locking yoke panel (3280 ctrs)
F030 2251 45 - 3780 mm long 6 Yokemaster self locking yoke panel (3920 ctrs)
F030 2251 46 - 4420 mm long 7 Yokemaster self locking yoke panel (4560 ctrs)
F030 2251 48 - 5850 mm long 10 Yokemaster self locking yoke panel (6000 ctrs)
Yokemaster panels with 4 angle brackets (for installation on RSJ/Post "face")
F030 2251 30 - 630 mm long 1 Yokemaster self locking yoke panel (770 ctrs)
F030 2551 31 - 1262 mm long 2 Yokemaster self locking panel (1425 ctrs)
F030 2251 32 - 1866mm long 3 Yokemaster self locking yoke panel (2005 ctrs)
F030 2251 33 - 2504 mm long 4 Yokemaster self locking yoke panel (2645 ctrs)
F030 2251 34 - 3142 mm long 5 Yokemaster self locking yoke panel (3280 ctrs)
F030 2251 35 - 3780 mm long 6 Yokemaster self locking yoke panel (3920 ctrs)
F030 2251 36 - 4420 mm long 7 Yokemaster self locking yoke panel (4560 ctrs)
F030 2251 38 - 5850 mm long 10 Yokemaster self locking yoke panel (6000 ctrs)
Yokemaster Panels with 4 flat brackets (for installation on RSJ/Post)
F030 2251 20 - 630 mm long 1 Yokemaster self locking panel (770 ctrs)
F030 2251 21 - 1265 mm long 2 Yokemaster self locking panel (1405 ctrs)
F030 2251 22 - 1866 mm long 3 Yokemaster self locking panel (2005 ctrs)
F030 2251 23 - 2504 mm long 4 Yokemaster self locking panel (2645 ctrs)
F030 2251 24 - 3142 mm long 5 Yokemaster self locking yoke panel (3280 ctrs)
F030 2251 25 - 3780mm long 6 Yokemaster self locking yoke panel (3920 ctrs)
F030 2251 26 - 4420 mm long 7 Yokemaster self locking yoke panel (4560 ctrs)
F030 2251 28 - 5850 mm long 10 Yokemaster self locking yoke panel (6000 ctrs)
EXTRAS
F030 2250 08 - Yokemaster Operating Handle
F030 2250 09 - Yokemaster Operating rod joiner kit
F030 2012 27 - 90 x 90 SHS Yokemaster Support post assembly
F030 2012 28 - 100 x 100 SHS Yokemaster Support post assembly