Apprenticeship success for Chloe Pickin, as after four years she has finally graduated with an Advanced Level Apprenticeship in Engineering Manufacture and a Level 3 Extended Diploma in Engineering (NVQ).
Chloe first joined IAE as a school leaver during September 2017 and for the first two years of her apprenticeship, she completed one day a week at Newcastle-under-Lyme College and during the rest of the time she has worked full time at IAE. The combination of college based learning and on-the-job training has enabled her to develop a broad range of knowledge and skills that are all applicable to the modern engineering environment.
She chose to join IAE as she wanted to be part of a dynamic and technology-led manufacturing company, that would support her goals of completing an Advanced Apprenticeship and help her to establish a long-term progressive career. The way things work has been a fascination for Chloe since a young age, which in turn, helped her to establish that she wanted to work within an engineering setting.
Unlike most apprentices at IAE who remain in a specific job role during their apprenticeship, Chloe's apprenticeship has enabled her to create a completely unique experience that has given her the opportunity to spend time within all the different functions and departments of IAE. Over the last four years she has split her time between office-based roles, which have ranged from working in the Research and Development department to the Sales department, and manufacturing based roles, such as working in the assembly plant and stores facility.
Not only has this experience enabled Chloe to gain first-hand knowledge of every aspect of the business and the manufacturing process, it has also allowed her to reflect on the time she has spent with each department and decide which area of the business she sees herself working in long term. She really enjoyed the time she spent in the Transport and Logistics department, which was also detected by Transport Manager Chris Green. With this in mind and upon completion of her apprenticeship, she was asked to join the Transport and Logistics department on a full-time basis. This is the department that Chloe envisages herself being a part of for the foreseeable future.
Production Director Ian Mycock, who also oversees the Apprenticeship Programme at IAE said 'Congratulations to Chloe on completing her Advanced Level Apprenticeship in Engineering. It is always pleasing to see employees progress within IAE, and Chloe has certainly done that. During the last four years Chloe has touched all areas of the business, and has been mentored by many experienced employees along the way. This journey has given Chole the experience and confidence to undoubtedly continue to progress her career within IAE'.
Chloe's graduation took place on Wednesday 29th of September at the Stafford County Showground. To celebrate such a fantastic achievement, she was joined by IAE's Senior Transport Coordinator, Pete Mycock, as well as her friends and family. The day entailed wearing a cap and gown, receiving her graduation certificate and an afternoon tea.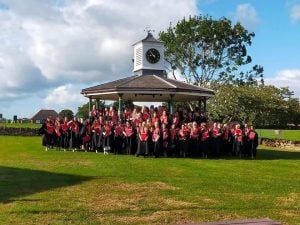 On behalf of everyone at IAE, we want to congratulate her on her apprenticeship success and all of the outstanding achievements that she has made during her time at IAE, and we hope that she will continue to grow and develop her skills set for a very long time to come at IAE.