On the 31st of March 2 of our Area Sales Managers, Jason (Midlands) and Ben (East of England) attended the West Midlands NFU Farm Safety Event held at Stafford County Showground.
The event was open to all NFU members, their farm workers and neighbours and consisted of a series of live demonstrations, workshops and compelling talks. IAE attended in conjunction with Miriam Parker MBE, owner of Livestockwise Ltd and demonstrated one of our RoteX Portable Cattle Handling Systems as part of a Livestock Handling workshop. We believe strongly in championing the importance of safe livestock handling on the farm.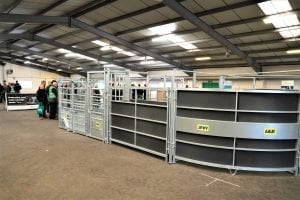 When designing all of our products, we are committed to giving extensive consideration to the implications on health, welfare and safety for both the animals and the handlers. With this in mind, our Fixed Cattle Handling Systems include the following design features:
Cattle easily become distracted when moving through confined spaces, therefore our race panels are fully clad to a height of 1560mm to reduce distractions and aid flow
The semi-circular forcing pen turns the cattle through 180 degrees which is driven by research suggesting cows have a tendency to return to the direction the come from
Narrow personnel gaps provide the handler with access to the holding pens or egress in emergencies
It is advised that the race exit points towards the cattle housing or field as cattle will move better when going in the direction of their housing environment
The 4880mm x 3195mm holding pens are designed to only hold a small number of cattle at any one time because cattle behaviour experts indicate a small group of cattle will move much easier than a large group
IAE were extremely pleased to have been asked to attend such an important and fantastic event by the West Midlands NFU.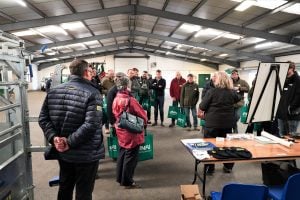 If you are looking to update or install a cattle handling system on your farm and require advice on the layout, please do not hesitate to contact your local Area Sales Manager who would be happy to assist.