Having served just under 34 years at IAE and currently standing as the 9th longest serving employee to the company, this week Phil Tavinder leaves IAE to begin his well-deserved retirement.
Before joining IAE in 1988, Phil had completed a paint spraying apprenticeship with a garage in Leek. In search of a career change, Phil left his job as a paint sprayer to embark on a completely new role at IAE's Macclesfield Road site, where he worked in the sheet metal department operating various types of machinery to fold and cut a variety of parts. Since this time, he has seen the company grow from a total of 40 employees to over 450 employees.
Shortly after joining, he was asked by David Klucznik to take on the additional responsibility of health and safety. As the introduction of health and safety procedures grew in importance, Phil took on the challenges of implementing and managing various procedures, whilst also maintaining his role in the sheet metal department.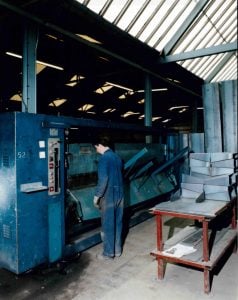 Although Phil enjoyed his time as part of the health and safety department, the best years of his career were yet to come. In 1993 he moved away from H&S and instead took on an additional role within the events team, traveling the length and breadth of the country setting up the infamous IAE show stands. His time spent as part of the events team is fondly remembered by Phil, and to this day remains to be his career highlight. When not away at shows, Phil continued to work on all of the various machines in the sheet metal department and in 2008, when the Macclesfield Road site shut, Phil moved with the company to work in the newly constructed, highly automated production facility at our current Head Quarters in Longton, Stoke-on-Trent.
Since then, Phil has continued to be a valued member of production team, who is well cherished by all those who have had the pleasure of working alongside him. Phil will be putting his time to good use following his retirement from IAE; in April he will set sail on a Mediterranean cruise for 10 days, which he hopes to do frequently, as well as spending more time with his grandchildren.
On behalf of everyone at IAE, we want to congratulate Phil on a brilliant service of 33 years and 8 months and wish him a very happy retirement.