From Junior Sales Apprentice to Commercial Director, after a 40 year long career at IAE Richard Harper bids a fond farewell to IAE as he begins his retirement.
Richard first joined IAE as a school leaver on the governments Youth Opportunity Programme (YOP), a former version of the modern-day apprenticeship. His early years with the company were split between college and the Sales Office, which later led to Richard gaining a Diploma in Business and Finance.
After completing his YOP Richard joined the Sales Office full time and in 1985 was appointed Agricultural Area Sales Manager as well as overseeing and growing all of the accounts within his region, he was also involved in many large-scale projects. Up until 1990, all IAE's business was found within the agricultural market and in order to solidify the continued success of the IAE brand the company went in search of diversification. After several discussions with David Klucznik, Chairman of IAE, Richard went in search of steel fencing contractors, to assess whether there was a gap in the market for IAE to begin producing fencing products.
The IAE fencing division instantly took off with many fantastic contracts being secured to supply fencing systems to many great projects. Following Richards success of initiating the IAE Fencing division he was appointed Sales and Commercial Manager for the division, which under his leadership has continued to grow ever since.
In 2006, IAE purchased Centrewire Ltd, the UK's leading supplier of gates for special rights of way. Throughout the process, Richard was heavily involved with all aspects; from the initial purchase to the development of a sales team.
With his vast knowledge of all aspect of the business, Richard was appointed Sales Director in 2007 and latterly Commercial Director in 2020. This saw him take responsibility for the sales development of all IAE divisions.
As part of his time as Sales Director for the company, in 2015 Richard was responsible for securing the companies largest single contract, which saw over £1 million worth of debris fencing products be supplied to the Formula E circuit at Battersea Park in London. The project required a huge amount of planning and organisation to ensure all products were delivered to the site within a specific time frame.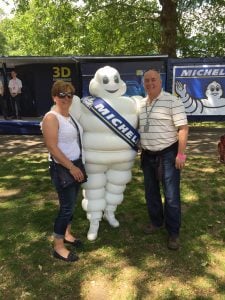 It is safe to say that Richards career at IAE has been remarkably diverse. Working with three generations of the Klucznik family, fantastic customers and a great team of colleagues combined with the diverse opportunities that his various job roles have presented him with is what has kept Richard at IAE for the entirety of his career.
Earlier this week Richard and the Directors of IAE attended Uttoxeter Races, where the 16:45 race was sponsored by IAE as a farewell tribute to Richard. The afternoon was enjoyed by all and even saw Richard present the winning prize to the winner 'Hard to Forget' in the paddock.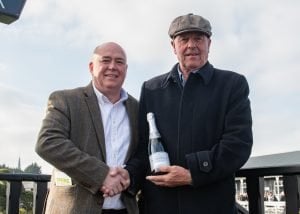 On behalf of everyone at IAE, we wish Richard all the best as he begins his retirement and want to congratulate him on what has been a fantastic career. We hope he will enjoy many more holidays and games of golf as well as spending more time with his friends and family over the coming years.