Overview
The Saracen Yoke is self-closing and automatic, meaning it is activated by the forward movement of the animal trying to fit through the visible gap between the yoke arms. This style of yoke is well suited to animals that are not handled frequently as their restless nature during handling makes them more likely to pursue the visible gap which in turn will activate the yoke.
The Saracen Automatic Yoke offers a cattle handling facility great flexibility in terms of the required number of operators. Once the yoke is set ready for the next animal, a single operator can move up the race to encourage the cow forwards with no additional handlers required to activate the yoke. The demanding nature of manually catching the cow in the yoke is greatly reduced with an automatic yoke.
Fitted to either side of the yoke are the release handles. Should an animal manage to activate the yoke without
putting its head through, the release handles allow the yoke to quickly reset without the animal needing to first exit the crush. An operator handle fitted to the front of the yoke is designed to assist the animal's exit from the crush if required.
Features unique to this product include:
Two fully opening side doors on each side of the crush providing substantial access to the animal's flanks
Removable side rail on either side of the crush for further access to the animal
Ratchet style rump bar for keeping the cattle forwards in the crush
Rear gate for managing cattle flow through the crush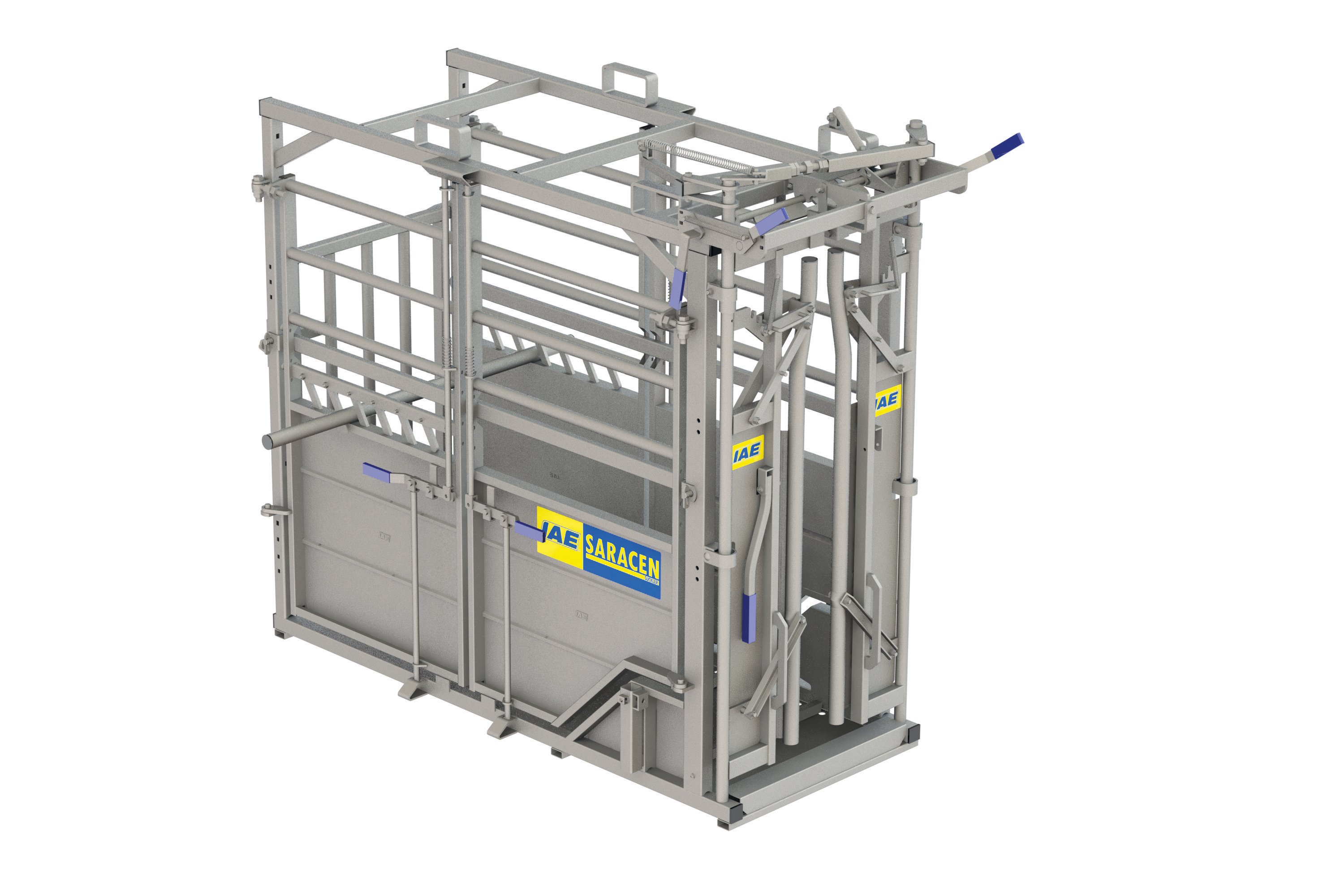 Farming Equipment & Technology Fund (FETF) 2023 compliant when purchased in conjunction with a rubber floor and a Sliding Gate or Crush Extension. To view other available products, please click here.
RELATED PRODUCTS
Load Bars  Foot Trimming Kit  Super Scoop   Sliding Rear Gate  Kiosk Lugs
Product Details
LENGTH - 2340 mm
BASE LENGTH - 2030 mm
WIDTH - 840 mm
INTERNAL WIDTH - 740 mm
HEIGHT - 2000 mm
Product codes
F045 2005 05 - Saracen Suckler Cattle Crush
Downloads