IAE are delighted to have supported the National Federation of Young Farmers Clubs (NFYFC) annual Competitions Day Final by sponsoring the Auctioneering competition.
Held on Saturday the 9th of July, the annual Competitions Day hosted by the Staffordshire County Showground saw hundreds of Young Farmers members from across England and Wales unite to compete for the National title in their chosen competitions.
The Auctioneering competition involved 6 members from across England and Wales hosting mock auctions in a bid to win the competition. In order to qualify for this competition, each individual had to win two previous rounds, which included the County round and the Area round.
Competitors were required to write a catalogue entry for 6 different lots, ranging from an IAE Hayrack on Wheels to a John Deere tractor. After this, they were required to mock auction 3 of the 6 items off at the discretion of the judges. The competition was fascinating to watch, and the talent exhibited by each and every competitor was outstanding.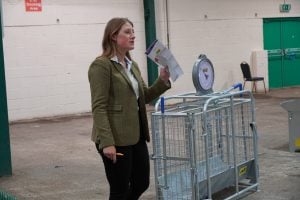 After the competition drew to a close, the results were presented later on in the evening in front of approximately 300 spectators. Managing Director Frank Klucznik, alongside Associate Operations Director Alex Venables were extremely pleased to be given the honour of presenting the awards to the competitors, which included a goody bag for each competitor along with certificates for 1st to 3rd and a trophy for the winner.
NFYFC are one of the largest rural youth organisations in the UK dedicated to young people who have a love for agriculture and rural life. Led by young people, for young people, the Young Farmers' Clubs provide their thousands of members aged 10 to 28 with a unique opportunity to develop and learn new skills, work with their local communities, travel abroad, take part in a varied competitions programme, enjoy a dynamic social life and embark on new opportunities that might not always be possible otherwise.
The collaboration between IAE and NFYFC is an excellent prospect as we both mutually aim to support and celebrate young people. We want young people to feel encouraged to be the best they can be and to tackle every challenge that life throws at them. We hope to continue this exciting and long-term partnership with NFYFC.